Usurping The Status Quo
While fellow countrymen and fierce rivals—namely, Mercedes-Benz and Audi—have been diligent in their efforts to monopolize the high-performance estate/wagon segment for what feels like an eternity, BMW has seemed to be content watching this all unfold from the sidelines.
Until now.
In hindsight, perhaps BMW made good use of this time observing, taking notes, strategizing and then executing. In doing so, they've crashed onto the scene like the Kool-Aid man through a brick wall. With the new 3-series performance wagon, the automaker has signaled its ambition to the superwagon establishment, setting their sights on becoming its leader rather than another follower.
With the new BMW M3 wagon at last, in the flesh, and having now been sampled by eager automotive journalists across Europe, I believe they must've been doing exactly that—and to great effect, mind you.
What Took So Long?
Of course, many of you will be familiar with the various 3-series (and 5-series) wagons that have come out over the years. So, it'd be highly exaggerated to state that BMW is in any way, new to the estate/wagon game. Going back in time, we can technically count one BMW wagon that would fit the "high performance" billing.
That would be the E61 (2007-2010) BMW M5 Touring, featuring a high-revving naturally-aspirated 5.0L V10 engine which produced 507 hp and could rocket 0-100 km/h in 4.8 seconds. A fantastic car in its own right, it stood out that much more as a lone wolf amongst "M" wagons.
Disclaimer: The aforementioned is notwithstanding any of the ultra-exclusive-and-basically-bespoke Alpina B5 wagons (pictured below).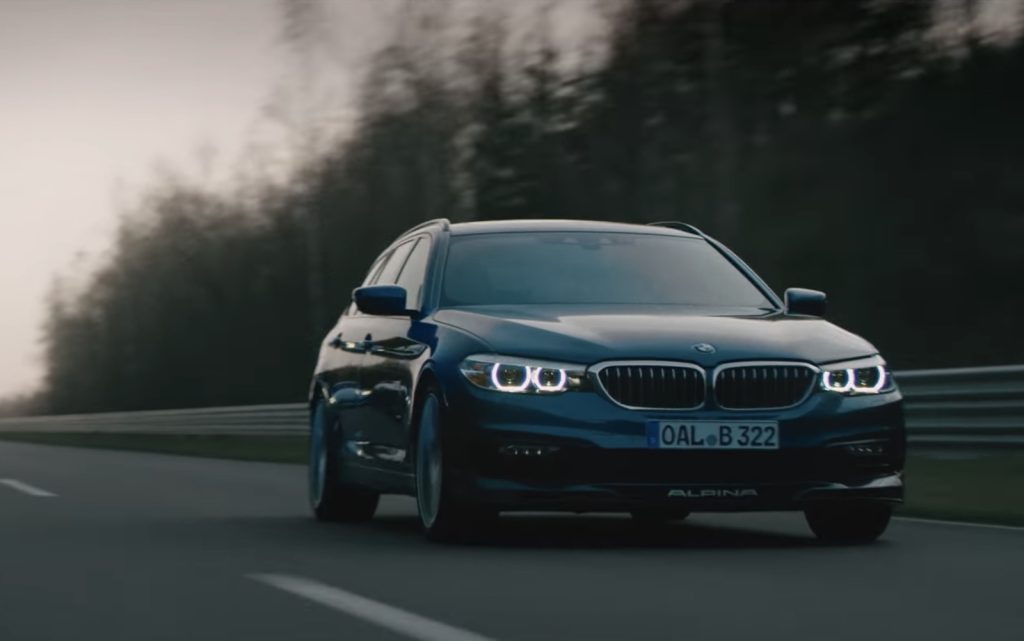 Besides that, there's really been zilch from BMW's production line that would sit at the AMG or RS performance tier of the day. Certainly nothing based on a 3-series model either, even over its lengthy 34-year production run.
Euro Inspiration Stays Local
Obviously, this is no longer the case. Yet, it's still perplexing as to why it has taken this long to experience a utilitarian version of BMW's quintessential M3 performance model. This is especially the case when considering that rivals have been cooking with this recipe for a while now.
Known formally as the BMW M3 Touring, this latest guise of the automaker's flagship sports car certainly adds more European flair to the line-up. Unfortunately, the German automaker is taking that Eurocentricity to the next level with the Touring model, as there are currently no plans to release it in the Americas.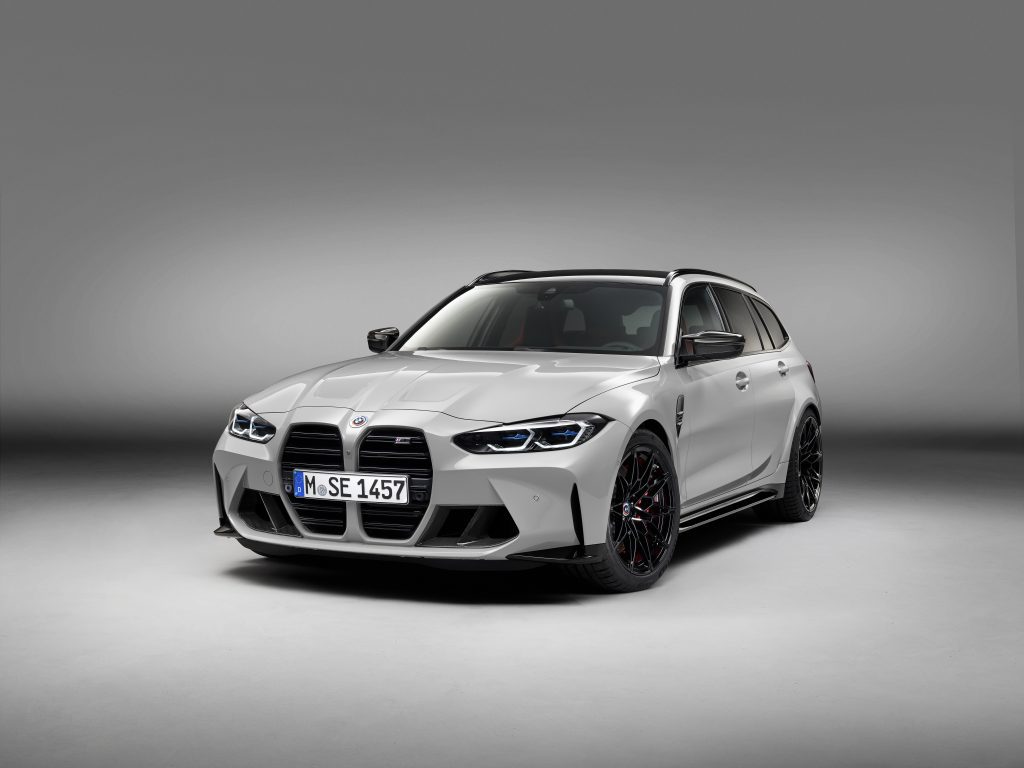 I'd love to say it'd be a big hit over here, but the sad truth is that SUVs reign supreme this side of the Atlantic—a place that has yet to embrace wagons and estates to any meaningful degree. One day, I hope.
Performance & Drivetrain
The BMW M3 Touring is equipped with the familiar S58 engine—a 3.0L twin-turbocharged inline-6 which produces 503 hp and 479 lb-ft of torque. This means that it comes standard with the Competition spec engine seen in the regular G80 M3, while the base version's 473 hp powerplant has been circumvented entirely. In this matter, it's probably better not to have a choice anyway—straight to the good stuff!
All-wheel-drive (xDrive) is also standard, with no rear-wheel drive option as seen on other M3 models. This makes sense, given the M3 Touring's utilitarian philosophy, though I'm sure many die-hard purists would have gladly opted for the latter.
It's still an 8-speed automatic gearbox sending all that power to each of the wagon's 4 corners. That means that there's still no DCT, and the 6-speed manual—only available in the base version—is also excluded. Again, par for the course in terms of what you'd expect (but maybe not what you want).
Nevertheless, the M3 Touring is mighty quick for what it is, with BMW claiming a 0-62 mph time of just 3.7 seconds. This makes it about a half-second slower than an equivalent saloon version, with that extra "wagon weight" being the main culprit behind the discrepancy. I doubt this would matter much in the real world, nor would it be notably measurable in 99.9% of situations, and I'd even wager that it's a bit quicker than what BMW is letting on. Top speed is 174 mph.
Handling & Chassis
I don't think there's anyone out there who was expecting the BMW M3 Touring to be a lightweight by any stretch of the imagination. Afterall, the standard M3 and M4 models aren't on the Lotus diet either, with each of them barely skimming below the 4,000 lbs mark.
But at nearly two tons or 4,112 lbs—whichever is more dramatic to you—it might be a little more porky than most would've thought. As such, it weighs in at only 187 lbs less than a current M5 and roughly 250 lbs more than its contemporaries.
It seems like a lot to give up for more cargo room, but the M3 Touring wears it well, both aesthetically and athletically. Thanks to a retuned suspension, the remains extraordinarily poised and balanced in spite of its weight penalty.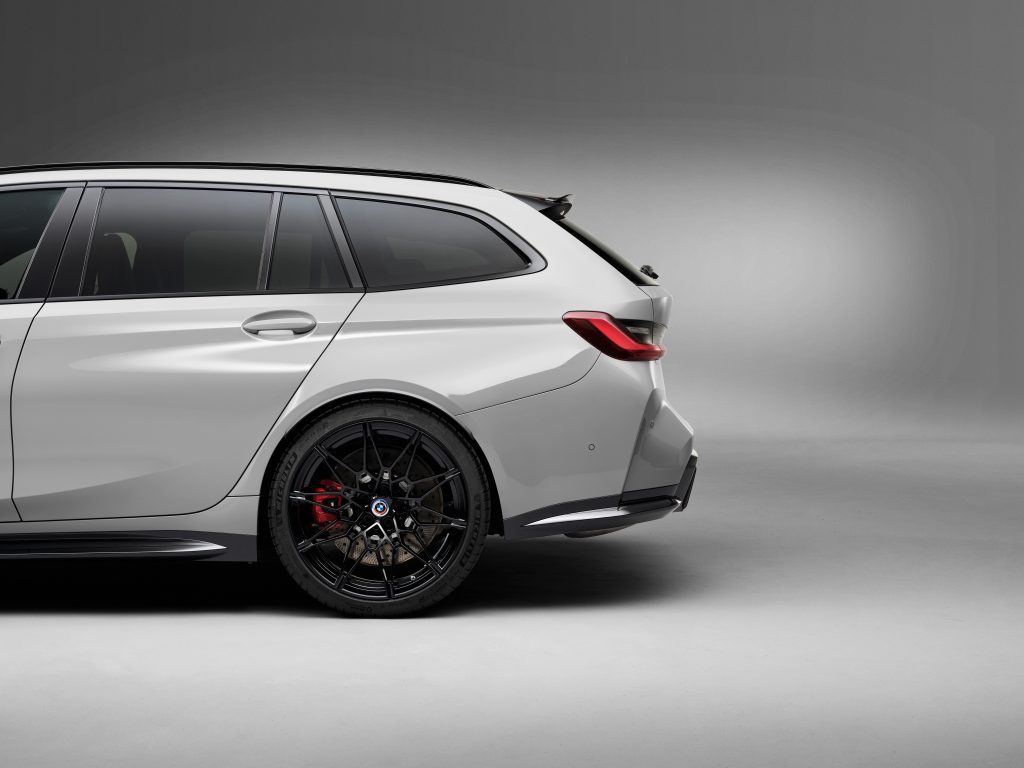 The superb M Sport locking rear differential provides the torque-vectoring required to navigate the wagon with precision and feeling of a high-end performance car. Expect a bit of understeer when really dive bombing into corners, though the stiff sport chassis provides enough compensation to reel things back in. Carbon ceramic brakes are optional—and at nearly $10,000, should likely remain as such—while the standard steel brakes are still well-matched for all tasks-at-hand, bar maybe, extensive track use.
The rear-biased xDrive system expertly distributes the best of the M3 Touring's 503 hp throughout the drivetrain, while intuitive traction and stability control systems provide an extra safety net to help mask non-egregious mistakes and allow occupants to ride in comfort and with peace of mind. Road, Sport and Track "M Modes" allow the driver to further customize how they'd like the car to behave, with each setting offering different combinations of comfort and engagement levels.
Design & Interior
Let's face it. The BMW M3 Touring wouldn't be the BMW M3 Touring if it didn't come with its quintessential wagon body style, because well, everything else is pretty much identical. This is where the car truly differentiates itself from the standard M3, or any other car in the current BMW line-up for that matter. This is where it truly shines.
Up front, it's inherited the fascia of the other M3 cars, with the very recognizable "kidney grills" that have become synonymous with the G80s taking center stage. Elsewhere, the BMW M3 Touring borrows directly from regular 3-series Touring models, with widened fender arches completing the more visually athletic silhouette needed to match its bones. It's elegant. It's sporty. It has it all, as far as estates go.
Of course, you'll note the extended roofline and rear hatch door which ultimately earns the BMW M3 Touring its own unique personality. This configuration will net you 500L of cargo capacity—same as the standard 3-series and about 20L more than the M3 saloon—but provides much easier access than the latter, not having to deal with the awkward shape of a trunk and all. There's also a ducktail hatch spoiler and an aggressive rear diffuser, for more differentiation.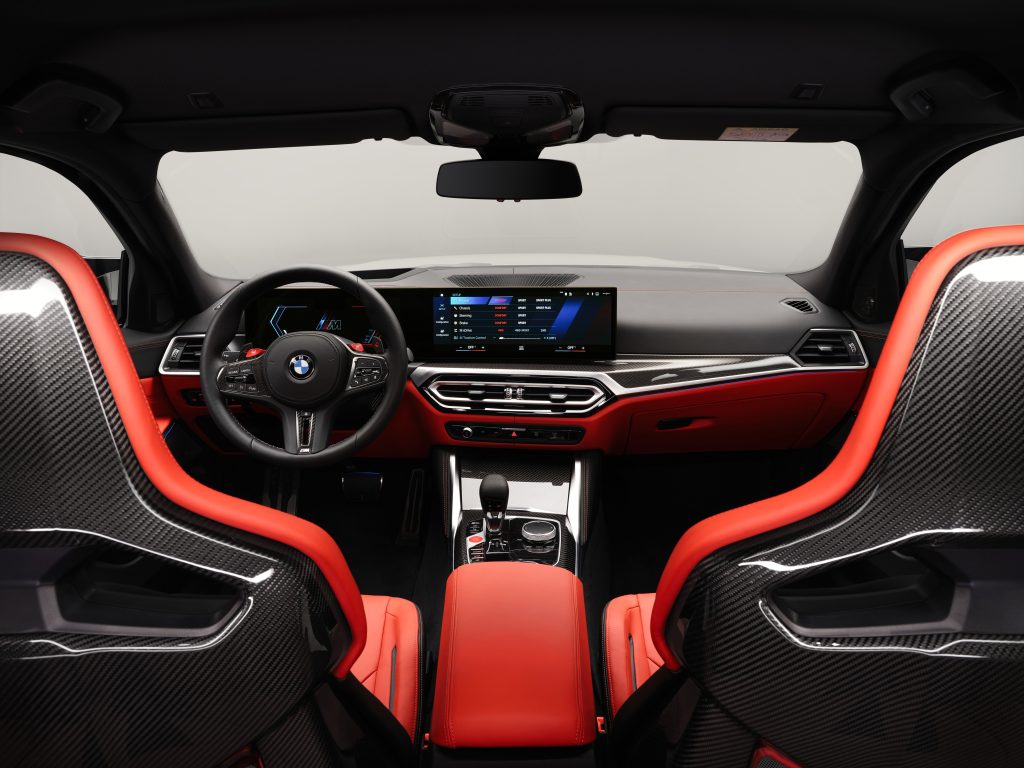 Once you're inside, it's a beautiful interior—another feature that's shared with the M3 saloon, and that's certainly not a bad thing. Visual displays are the same too, so there's also an extended display screen which starts from the "gauge cluster" and blends into the touchscreen infotainment system that sits above the center console. Apple CarPlay and Android Auto come standard.
Notable options include an extended leather package, for those seeking a more executive vibe, or a carbon package with accompanying carbon fiber front bucket seats for those with more masochist tendencies. Go with what's more comfortable or what hugs you better—either way, just be sure to ask yourself the right questions before you pick what you think is best for you.
Pricing
It's not cheap in Europe, and if it ever made it over to the Americas, it wouldn't be cheap there either.
In the UK, the BMW M3 Touring starts north of £85,000 before options. and you'd be pretty close to 6-figures (in pounds) with only the carbon ceramic brakes and carbon bucket seats tacked on. That means a reasonably well-optioned M3 Touring would cost the equivalent of around $125,000 USD , and you'd still likely be above $100,000 USD with just the bare bones after factoring in destination fees and taxes.
That's not to say that you aren't getting what you pay for, particularly with the target audience BMW has in mind. It's a very niche one, but as things tend to go with such demographics, these customers know what they want and are willing to shell out what it takes to get it. It fits the bill for exactly whom it was meant to fit—drivers looking to add an all-rounded superstar to their team.
Verdict
supercars.net: 4.5/5
I mean, I love wagons. I also love the M3. So, the arrival of the new BMW M3 Touring was a long time coming. It seems that the German automaker has bided its time well, and I think it's been executed perfectly. It may as well have created a new "superwagon" category in the process, and perhaps we'll be hearing that term come up a lot more as future performance wagons seek to live up to its hype. No perfect score, since it's not available in NA (and I don't live in Europe).
What Other Experts Are Saying
Top Gear: 8/10
"Goes, stops, and steers like a proper M special. No compromise in practicality."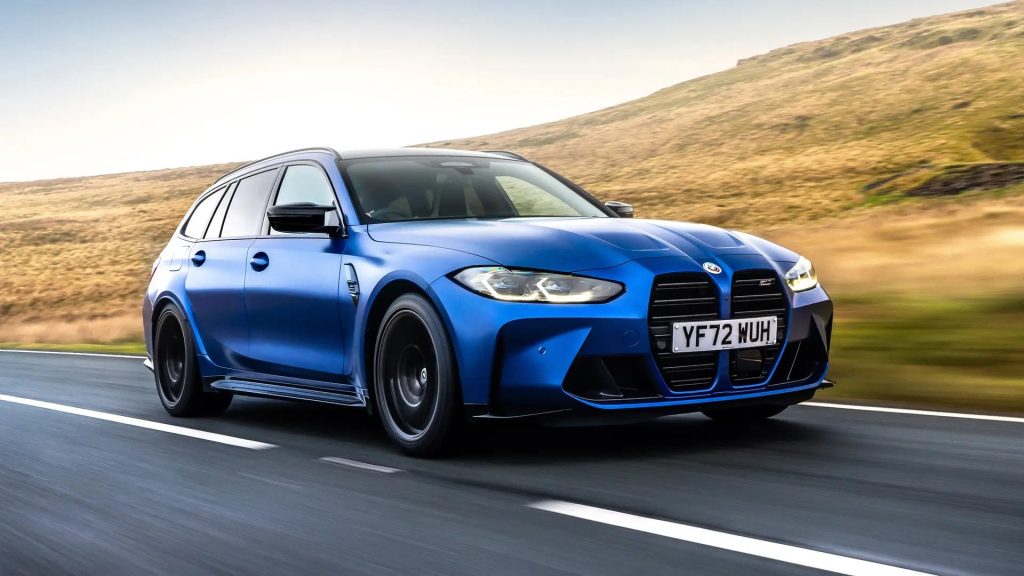 Link to full article, here.
carwow: 9/10
"The BMW M3 saloon is already an awesome performance car, so adding the practicality of an estate body will only broaden its appeal."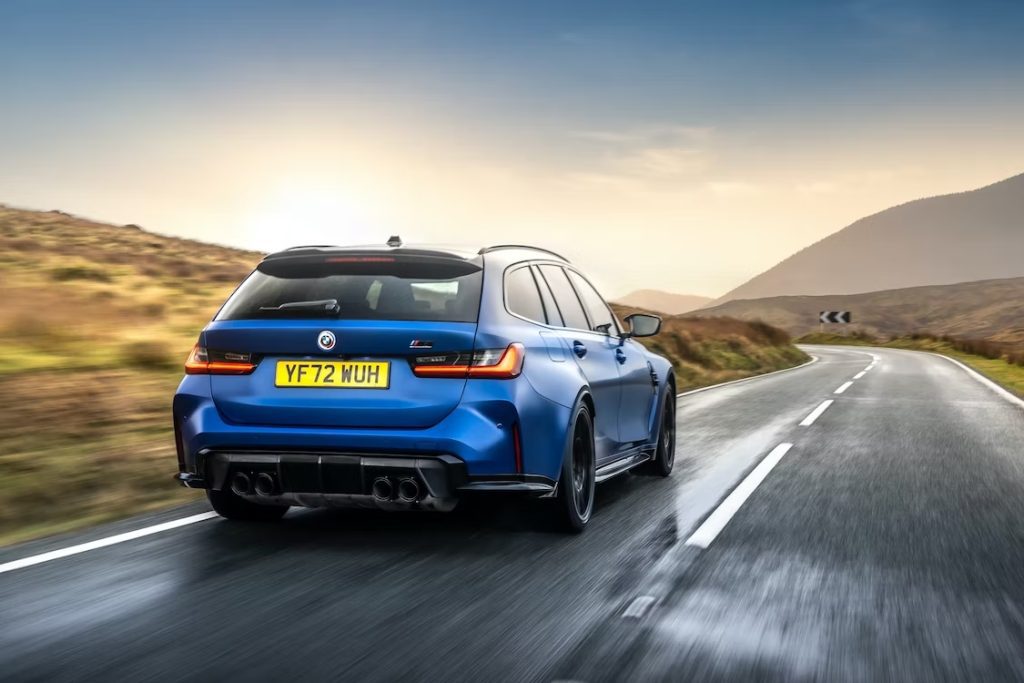 Link to full article, here.
Auto Express: 4.5/5
"The M3 Touring drives every bit as well as the saloon, which makes it one hell of a high-performance family car."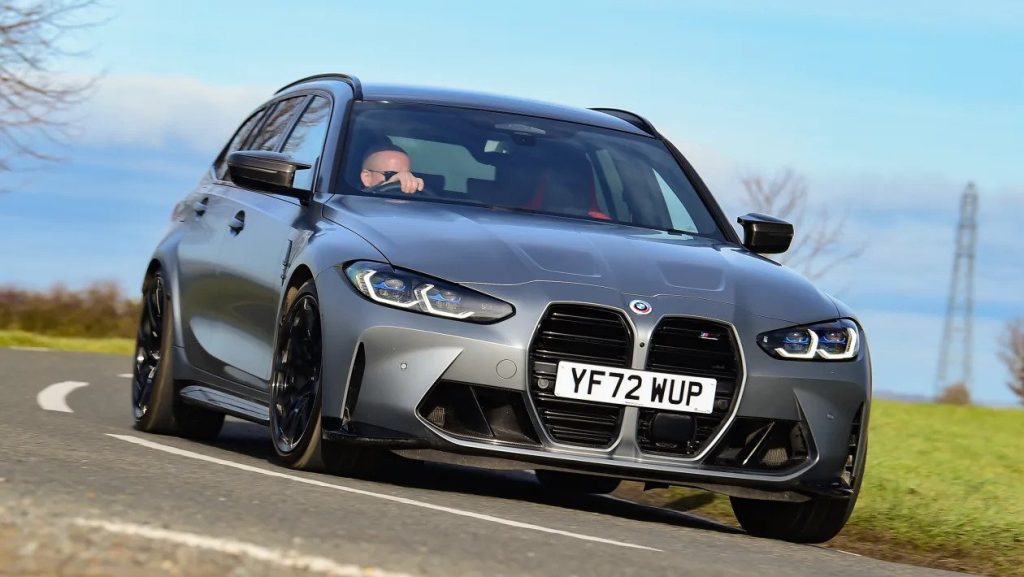 Link to full article, here.
Car Magazine: 4/5
"The new 2023 BMW M3 Touring Competition confidently, effortlessly saunters in and settles down at the head of the estate car class."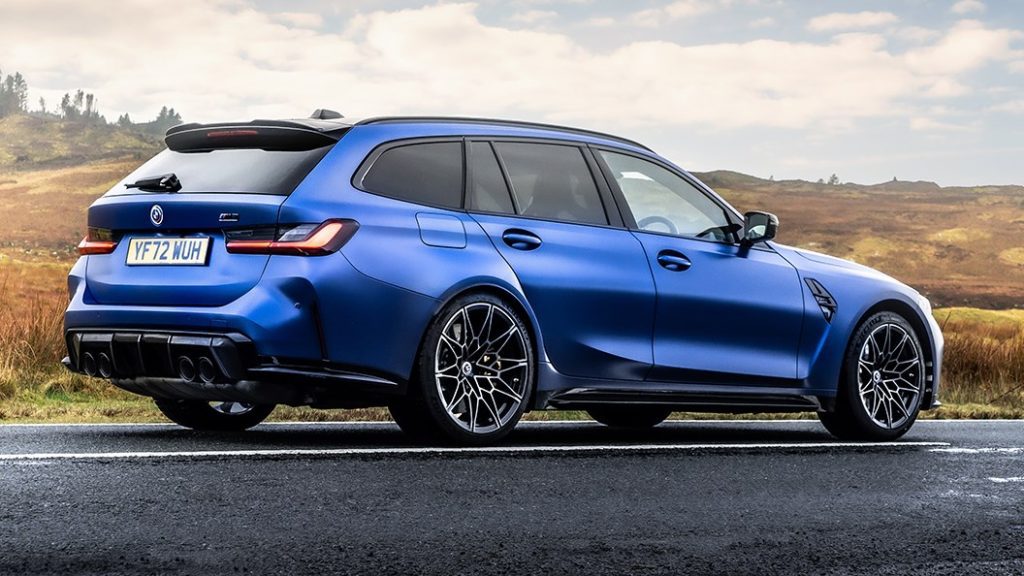 Link to full article, here.
EVO: 5/5
"​​Enthusiasts have waited for an M3 Touring for literally decades. Now it's here. Should you buy one? Oh f**k yeah."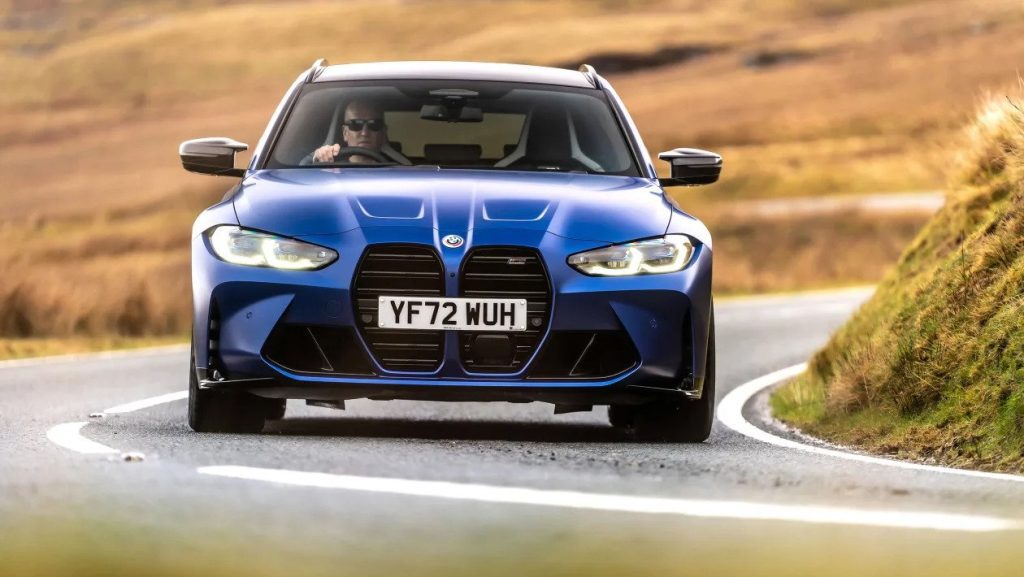 Link to full article, here.
Image Gallery


Video Review Gallery