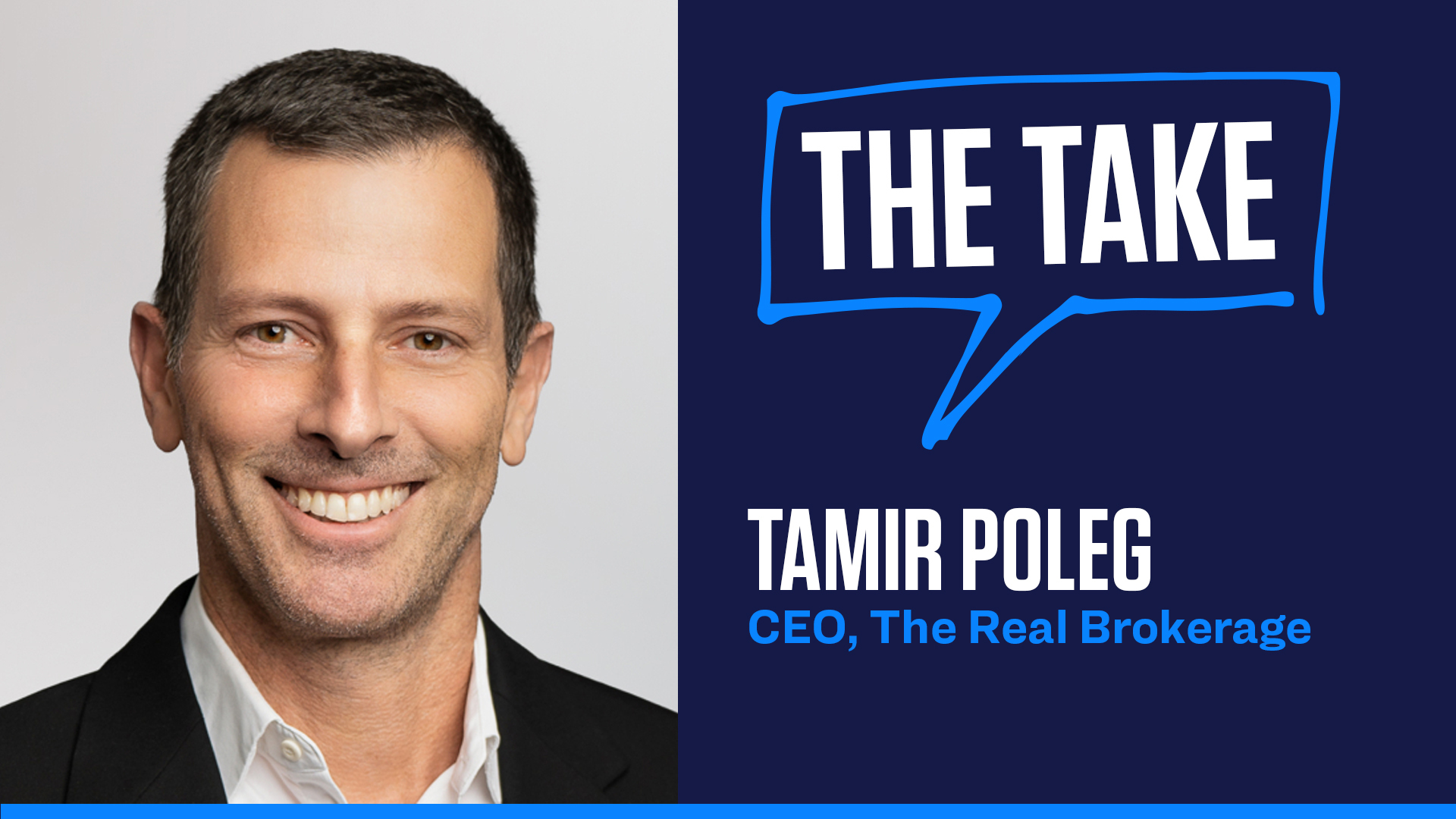 This report is available exclusively to subscribers of Inman Intel, a data and research arm of Inman offering deep insights and market intelligence on the business of residential real estate and proptech. Subscribe today.
By now, most are familiar with the lean, quickly expanding model of eXp Realty. 
But in 2022, a year of decline for most real estate firms, a second upstart brokerage joined the ranks of the top growers in total transactions: The Real Brokerage.
Real's Tamir Poleg welcomes the comparison. The company's founder and CEO joined Intel by video chat this week from Israel, where he lives most of the year in between trips to the U.S. and elsewhere. 
He laid out his company's growth strategy and discussed how the market surprised him in the first three months of 2023 — as well as its prospects for the days to come.
His comments below were edited for length and clarity.
Intel: When you look at which brokerage models were able to meaningfully grow their transaction counts in 2022, it's pretty much just eXp and Real Brokerage at the top of the list. What's been your secret sauce? How have you been able to differentiate yourself from other brokerages and take off like this during a down market?
Poleg: The market shifted in the middle of 2022, and for years we said that we think that a market downturn is actually an opportunity for a company like Real. Why? Well, when agents are closing fewer transactions, they're more mindful of their economics and how much they're paying their brokerages. And we believe that now when agents are closing on average 30 percent less transactions, they still need to make a living. Their cost of living remains the same, and they're looking for ways to keep more money out of fewer transactions. I think that may have accelerated the interest that the industry as a whole has in Real.
Also, the fact that we're growing and we're getting more and more noticed, and more people hear about us. About a year ago, I would estimate that 80 percent of the agents in America had never heard of us. Now maybe it's 50 percent. So I think that just the awareness is working in our favor. But generally speaking, I think that it's about having a very attractive and well-thought-of offering for agents that balances between technology, culture, economics, financial opportunities and early stage opportunity.
And by the way, one more thing: In most brokerages, the financial opportunity ends at how much am I paying in fees, or what is my commission split? I think that at Real, we offer two things that do not exist in most brokerages, which is equity in a company that you helped build, which is meaningful. This is another asset that you're growing as an agent. And second is revenue share. And you were asking about eXp. EXp also has kind of a similar model, and maybe that differentiates both companies.
Last week, industry analyst Mike DelPrete pointed out that, setting acquisitions aside, Real was close to being cashflow-positive in the fourth quarter of 2022. How close are you guys to becoming consistently profitable?
It's a very near-term intention. We're a public company, so we don't provide guidance, and I should be careful in what I'm disclosing, but we've been communicating to the market that we intend to become adjusted-EBITDA profitable in the second quarter of 2023, which is a couple of months away. There's a difference between being profitable and being cashflow-positive, and so we will become profitable in the second half of the year, if not before.
How much of that is driven by what the market looked like in the first three or four months, compared to your expectations, in terms of transaction volumes?
When we did the budget for 2023, we wanted to be very conservative, so we estimated that transaction count would drop by 15 to 25 percent and home prices would drop by 7-plus percent. Those were our assumptions and this is how we built our budget. I think that the first quarter actually surprised us for the better, and we're also very optimistic about the remainder of the year, which is a good thing. 
Every real estate company is having to make decisions based on assumptions about how long this downturn will last. With all the uncertainty surrounding the banking industry and a possible recession, how do you see the next nine months or so playing out for real estate?
It's a good question, and it's a little bit tricky to predict, because there are so many variables that come into play. I have to say that we are very fortunate to be maybe the only company that didn't really need to adjust for this market downturn. We didn't lay off anybody. We actually grew our employee count in the past 12 months. We were always very conservative or cautious with our budget. But when we think about where the market is going, I would mention a few things.
One, we're seeing inflation slowing down, which is a good sign. This will have an effect on the Fed rate and potentially a positive effect on mortgage rates. And we're already seeing that in the last month or so. Rates have dropped significantly. At the same time, we see unemployment rates very, very low. So people have jobs, and as long as people have jobs, people will have a way to pay for homes. I believe that unemployment is something that we should track very closely, and I think that, as of now, the job market is very solid, which is a very good sign for the next few quarters in real estate.
We are seeing some price corrections in different markets. West Coast is correcting, East Coast is actually very stable in terms of price movement. We're seeing somewhat of a low inventory in many markets, and at the end of the day, the housing market is very much about supply and demand. We're seeing that there's demand, because interest rates or mortgage rates are reasonable at this point, and people have jobs. And on the supply side, there's just not enough supply. So I think that fact will keep prices pretty much unchanged from where they are right now. If we think about homebuilder sentiment, it's very low. There are not a lot of homes being built, so I don't think there will be a lot of new inventory coming into the market, which will probably keep the prices where they are right now.
And then, the last thing I would say is, the homeownership rate is kind of on an average if we look at the last 20 years, so there's still more upside there. When I'm trying to analyze the market, I think that there are a lot of fundamentals that support a thesis that the worst is behind us, and that 2023 is actually going to be a pretty solid year when it comes to the real estate market. That's how we read it.
Obviously your company is in the middle of a big growth push. How has agent recruitment gone for you in the first four months of 2023? Is that still gaining steam, or has the market provided some resistance to that growth?
[We're] really focused on productivity, so we're not necessarily thinking about agent count. We're thinking about productive agent count. And we're trying to attract as many productive agents and teams as possible. It's not just about adding agents for having a nice number to be proud of. It's about the transactions that are actually closed on the system.
We finished 2022 with about 8,500 agents. A couple of weeks ago we announced 10,000 agents, so clearly you can see that the growth in agent count continues. Again, we haven't announced the Q1 earnings, so I cannot talk to transaction numbers or revenue, but you can imagine that with the continued growth in agent count, there will be continued growth in all other parameters that are connected to the agent count.
Is there anything else I didn't ask that you think our readers should be aware of as you look forward to the months ahead?
Generally speaking, at times like these, new leaders are crowned and other companies are either shrinking or leaving the industry. And I think that what's happening right now in real estate is accelerating all of those processes. I'm happy to be in that group of companies that are growing market share. But I think that if we fast forward 12 or 24 months from now, I think that we will see that period as a period that really filtered all of the non-sustainable businesses, brokerages out there, and as the time that really helped brokerages like ours accelerate their growth and just gain more market share. And I think that if you look at the Top 10 brokerages list in a year from now, it'll look very different from a year ago.