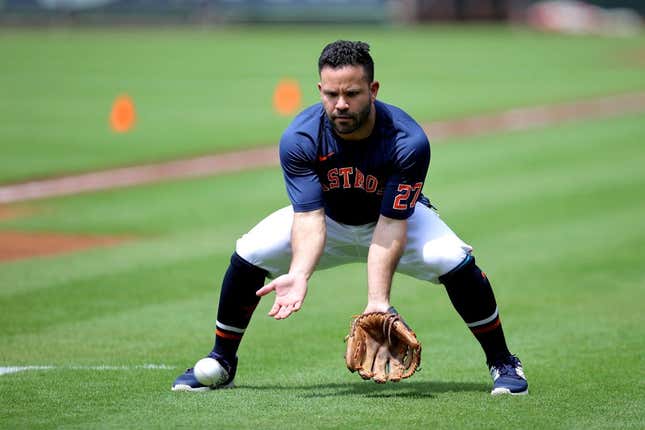 Houston Astros second baseman Jose Altuve has resumed baseball activities as he moves closer to returning to action after sustaining a broken right thumb in March
Which NFL rookie wide receiver should you draft? | Fantasy Football
The injury occurred when Altuve was hit by a pitch during the World Baseball Classic on March 22. The eight-time All-Star underwent surgery and was forecasted to miss eight weeks.
Altuve figures to miss at least two more weeks but the club hasn't updated the timetable.
"I think right now it's hard to tell," Altuve said prior to Wednesday's home game against the San Francisco Giants. "Anything is possible. I'm working really hard. I want to come back and help these guys to win, but we'll see. I think the next two weeks are really important in my rehab."
Altuve, 32, said he hasn't yet been cleared to swing a bat.
"We're going to swing when it's the right time," Altuve said. "Even though I'm feeling really good, you have to wait. Hopefully soon."
Altuve, who is in his 13th season with Houston, batted .300 with 28 homers, 57 RBIs and 18 steals in 141 games last season.
The three-time batting champion has a .307 career mark to go with 192 homers 696 RBIs and 279 steals. He has helped the Astros win two World Series, including a six-game win over the Philadelphia Phillies last season
"I feel great he was cleared by the doctors for baseball activities," Astros manager Dusty Baker said. "It's been hard on him to not play and not contribute and not to help us win. We just have to temper it some not to rush him as badly as we want to, and it's probably worse for him because he wants to get back again because he loves to play. We just have to be patient.
–Field Level Media