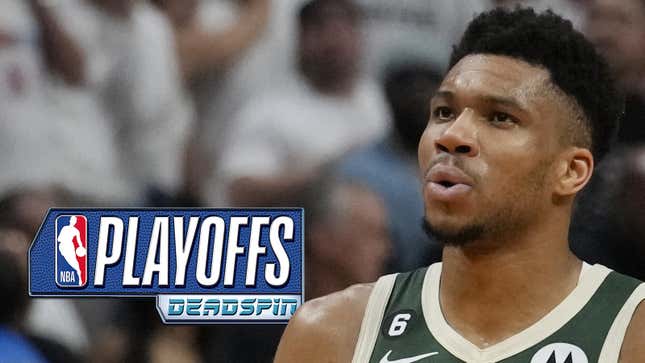 Entering the playoffs, Milwaukee was seen as head and shoulders above the rest of the Eastern Conference despite dealing with injuries to key players all season. Someone forgot to pass that memo to the Miami Heat, who have come out the gates smoking hot and now have a 3-1 lead over the Bucks.
Stop dunking! Giannis' injury could've been prevented | Andy Reacts
A team that prides itself on its defense allowed Jimmy Butler to drop 56 points on them and do it in a late-game comeback. Game 4 of this first-round series wasn't a matchup where Giannis Antetokounmpo was ineffective due to his back injury — he posted a triple-double with 26 points, 13 assists, and 10 rebounds. Jimmy Buckets just wasn't going to lose on Monday night.
While Giannis' back shouldn't be used as an excuse for losing, it's absolutely a concern with his team facing a 3-1 deficit. Milwaukee looked out of sorts, especially late in the fourth quarter, when Miami made its final run to get back into the game and eventually take the lead. They started a 13-0 run with just over six minutes left in regulation and Butler capped it off with an emphatic dunk to take a 102-101 lead with 3:17 remaining.
At that point, you could see the life and energy completely drained from the Bucks. They looked defeated. Following the game, TNT's Inside the NBA crew broke down this all-time great performance by Jimmy F'n Butler, and Charles Barkley notably mentioned how strange it was that Bucks head coach Mike Budenholzer didn't call a timeout to stop the Heat's momentum during that 13-0 run. Barkley may say and do some outlandish things, but he was on point with this comment.
That final run by Miami may have been the beginning of the end for Milwaukee. Everybody knows Butler isn't going to quit, especially in the playoffs, but no one outside of Dade County expected the Heat to have a real shot at winning this series. Now they are one game away from becoming the first No. 8 seed to upset a No. 1 since Philly did it to Chicago in 2012.
Boston was supposed to be Milwaukee's biggest challenge this year and the only team really standing in their way of returning to the NBA Finals. Now they will have to go seven games if they plan to advance. In this series, they've already lost one game at home to the Heat, so game five shouldn't be a foregone conclusion. They'll need to come out and play like everything is on the line because it is.