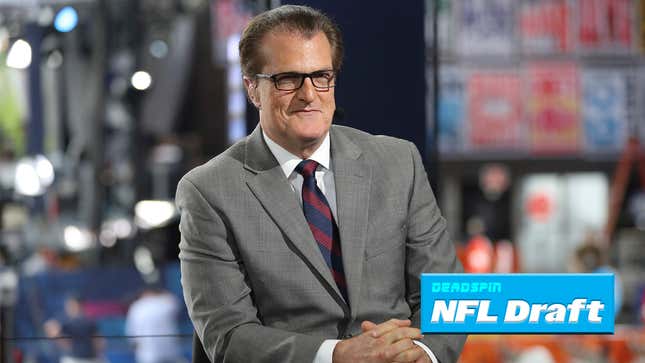 Overreaching on quarterbacks has become a yearly tradition. Mitch Trubisky is going to work out! Carson Wentz will be healthy! Peyton Manning and Ryan Leaf? Same thing! And this year, the projection for former Kentucky quarterback Will Levis was way off, with no one being more wrong about the mayonnaise-instead-of-cream-and-sugar-in-his-coffee lover than longtime ESPN NFL Draft analyst Mel Kiper Jr., who projected Levis to go No. 4 overall to the Indianapolis Colts. At one time, that meant Levis was rated as the second-best quarterback in the draft. Kiper did have Levis in his top 10 overall entering Thursday's first round.
Is Brock Purdy the most relevant Mr. Irrelevant of all time?
Will Levis likes to eat banana peels…oh, and he may be cocky
There have been plenty of reasons floated as to why Levis had to re-enter the green room at Kansas City's Union Station on Friday night. Two main ones have stuck out, which I guess Kiper wasn't privy to in evaluating a quarterback that likes to eat banana peels. Maybe they're full of fiber? It's still disgusting. The first reason is something I blame Kiper less for picking up. According to ESPN colleague Pete Thamel, Levis came off as cocky and a little unlikeable during the interview process with multiple teams. Second, and much more importantly, Levis just wasn't good enough on tape. And that makes complete sense if you actually look at the facts and not try to prop up someone undeserving.
Levis has some great skills, no doubt, but what exactly stands out about him? What exactly did Kiper see outside of arm strength? It's the classic reach on a prospect where expectations don't meet reality. Kiper's been evaluating prospects in a similar fashion to NFL scouts and he's been doing it longer than most, if not all, of them. How did he completely miss the boat on Levis? Plenty of teams could have traded back in at the end of the first round and didn't, like the Ravens did for Lamar Jackson. And they all didn't.
Levis may get drafted in Round 2
As round two begins tonight, Levis likely won't last longer than the first 10 picks. Some team will take a flier on him as the deeper you go in the draft, the more unlikely a prospect is to pan out to be a superstar anyway. If anything, Levis could be seen as great trade capital in the middle of the season when the inevitable string of injuries to quarterbacks happens anyway.
Barring any trades, which are guaranteed to happen, Levis won't fall past No. 41, where Tennessee would pick him up 30 spots after many on-air talents, including Kiper, thought he could be selected. No. 41 would also be 37 selections after where the Colts choose Anthony Richardson, the latest quarterback to be drafted. Kiper's misread is hysterical and should've been easy to predict. When Levis couldn't consistently shut down Southeastern Conference defenses, what makes you think an NFL team would bet their future on him? Just another case of overreaching on a quarterback.