If the basketball gods want to bless the true fans of women's college basketball, they would manifest themselves by guiding former Louisville star Hailey Van Lith toward LSU as her next destination, where she would team with Angel Reese and be coached by Kim Mulkey — instantly transforming the Tigers into the most hated, beloved, entertaining, and cocky team the sport has ever seen.
Grant Hill looks to repeat Team USA's 2004 "success"
Please let this happen.
Coming off a season, Final Four, and National Championship game that set ratings records, the sport of women's college basketball could reach even more success and viewership next season if Van Lith winds up in Baton Rouge thanks to the transfer portal — and standing against a healthy, almost forgotten, and loaded UConn team.
Van Lith took a visit to LSU's campus earlier this week, as Mulkey almost signed her a few years ago when she was at Baylor. Last season, Van Lith was All-ACC after averaging 19.7 points, 4.5 rebounds, and 3.2 assists per game. However, her game isn't the only thing that would make a commitment to LSU an intriguing idea — her brashness is. Like Reese, she also chirped at Caitlin Clark as Iowa defeated Louisville in the Elite Eight.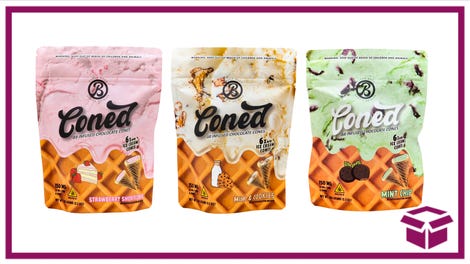 BOGO 50% OFF
Baked Bags Coned Edibles
Mellow out with these grown-up treats
Baked Bags stuff 25mg of Delta-8 THC into each cone, and 100mg per "extra strength" cone. So if you're looking to mellow out, relax, and have a good time, these treats should do the trick nicely.
And then there was that "fiery" moment Van Lith had with Texas' Sonya Morris in the Second Round during the postgame handshake line.
Just a few weeks ago, America reminded us of how much they loved cocky white women, but despise the cocky Black ones, as "classless" was the term used to describe Reese — which is just another way of saying the N-word. It was a refresher course on the subject of trash talk, as only white people get to participate without their integrity and humanity being questioned. America tends to come down with a case of convenient and selective outrage whenever a Black person does something they don't like. Mind you, they're usually fine when a white person does the same thing.
"All year, I was critiqued about who I was," Reese said after winning the national championship game in which she was repeatedly deemed "classless" for taunting and trash-talking Clark in the same fashion Clark did to the opponents she beat. "I don't fit in a box that y'all want me to be in. I'm too hood. I'm too ghetto. But when other people do it, y'all say nothing. So this was for the girls that look like me, that's going to speak up on what they believe in. It's unapologetically you."
Close your eyes and imagine America being forced to deal with a team that features Van Lith and Reese — making it impossible to accept one's cockiness and not the other's — being coached by a woman that historically puts her foot in her mouth when it comes to setting back women and women's sports, and who will soon be headed to the White House to meet the same President who helped free the best player she ever coached — Brittney Griner — whom Mulkey publicly left unsupported as she sat in a Russian prison.
We just don't need a Van Lith transfer because it would elevate women's college basketball to its rightful place. We need it so that America will be forced to deal with its willful racism and hatred of Black women.