Draft stock is as volatile as any investment traded online. In the past few years, Reddit has been surprisingly instrumental in socially engineering artificial increases in the stock of both. The reliability is iffy, but that hasn't stopped gamblers working sportsbooks from going all in based on a post over at r/sportsbook from a user who claimed Kentucky QB Will Levis was informing family and friends that Carolina was taking him with the No. 1 overall pick.
Ranking Dennis Quaid's Best Sports Movies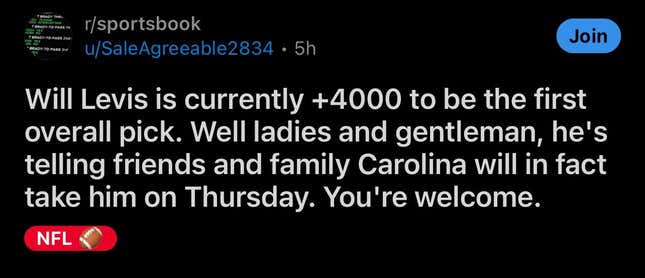 In a just world, everyone would have checked for verification on Twitter, but with verification badges gone, nobody knows who to trust. Google News would have been a reliable source of info, but at times news takes a while to filter through our Internet overlords algorithm.
Prior to Tuesday morning, Levis wasn't even a top-three draft pick on DraftKings. In an hour, Levis' odds to go No. 1 overall shifted from 40-to-1 to 4-to-1. BetMGM even placed Levis's odds to be the No. 1 pick back up at 5-1 after removing him completely last week.
Will Levis and the cast of The Joker sequel?
Meanwhile, Fantasy Football expert Josh Norris' searched u/SaleAgreeable2834's Reddit post history and discovered his most recent post before the Levis "scoop" was insider scuttlebutt pertaining to Berry Keoghan being replaced as The Joker in a sequel to The Batman.
So there you have it. A Will Levis post that also includes (another) DCEU casting shocker. No, don't Google or tweet about it. I hope it was obvious that treating those scoops seriously was me being facetious.
Barry Keoghan is returning as the Joker, which gives me time to Google who he even is, and the stunningly average Kentucky quarterback who shot into the No. 1 pick conversation is a meme stock now. What's a meme stock? They're shares that gain viral popularity due to heightened social attention. Just like Will Levis' potential, his stock is merely an artificial construct.
I'm not sure I'm more disappointed in a community of risk-takers moving Vegas' lines over an unverified piece of misinformation on a sports gambling subreddit or that Carolina wasn't actually about to shake up the draft. For everyone except Panthers fans, Levis going No. 1 would be objectively hysterical.
Levis has existed outside the fringes of the upper-echelon signal callers in the draft, but for a few moments, he was the hot prospect. On the plus side, this morning was a good time to jump on Bryce Young's stock.
---
Follow DJ Dunson on Twitter: @cerebralsportex