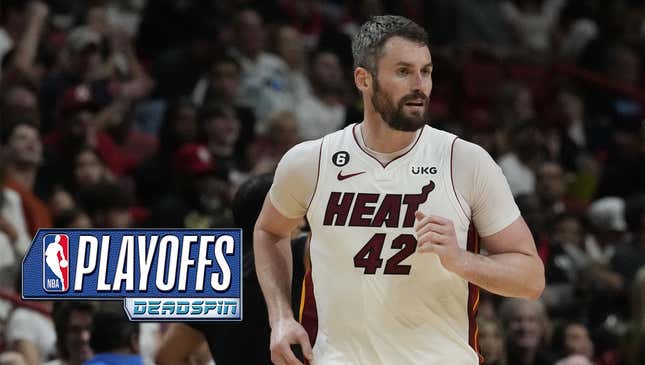 If you're a casual NBA fan, you may have forgotten about Kevin Love, as it feels like he hasn't played much since things fell apart in Cleveland after LeBron James bolted for Los Angeles following the 2018 postseason. Love stepped up, making a surprise appearance in the Miami Heat's game one victory over the Milwaukee Bucks. By losing to Atlanta in the first play-in game last week, the Heat may have placed themselves in the best position based on available seeding after the back injury suffered by Giannis Antetokounmpo on Sunday.
Dawn Staley takes a stand | Google is Free
Love was that X-factor for the Heat in game one and made a few plays that aided in the 130-117 win. He did it on both ends of the court, scoring 18 points, grabbing eight boards, and coming up with multiple defensive plays like taking timely charges that slowed Milwaukee's momentum, keeping Miami in the driver's seat.
If the Heat continues to get similar performances out of Love coupled with Giannis' back injury, Miami could pull off a first-round upset eliminating the No. 1 overall seed in the playoffs. Despite Miami's struggles, the Heat always seem to play well against the Bucks, splitting the season series this year. Giannis missed both games at Miami in January, which the Heat won. Even more reason for concern over this latest injury to Antetokounmpo's back, along with everything else that's hampered him throughout the season.
On top of all that, Jimmy Butler's alter ego, Jimmy Buckets, returned just in time and dropped 35 points to lead all scorers on 55 percent shooting from the field, and added 11 dimes. He did all that and attempted just one three-point shot the whole game, which he missed. Pay attention to the midrange, kids. It can still be a killer if you master it.
There's no way the Heat should win this series based on their inconsistency all season, but with Giannis' health in doubt, that could be all playoff Jimmy, and the Heat need to upset the eastern conference favorites. You hate to jump ahead and call game two a must-win for the No. 1 seed in any opening-round series, but based on the circumstances, this could be just that for the Bucks on Wednesday.