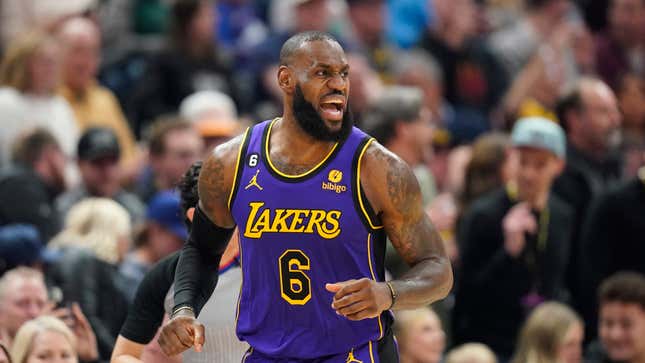 The Los Angeles Lakers are riding high late in the season as they attempt to sneak into the top six of the Western Conference avoiding the play-in tournament. After beating Utah Tuesday night, L.A. sits a half-game back of the fifth-place Golden State Warriors and tied with the Clippers (both 41-38), whom they play Wednesday night. Following their overtime victory against the Jazz, Lakers players could be heard mimicking farm animal sounds (baaaad goat imitations) while LeBron James was speaking to the media.
Can the new-look Lakers make a deep playoff run? | Agree to Disagree
King James had an impressive showing in the overtime thriller, scoring 37 points in 38 minutes while collecting five rebounds and dishing out six assists. The Lakers have come on strong over the past couple of weeks, winning their last four in a row and seven of their previous eight games since March 19. Since the beginning of March, James' squad is 12-5, which has helped them climb back to the top of the play-in and put them in a position to potentially steal a playoff spot away from the Clippers or Warriors.
You can feel the excitement for this Lakers run at every turn. Whether on TV, radio, or a website, media and fans are ready for the King to lead his men into battle, seeking that 18th NBA championship banner. It's just too bad the Lakers are setting everyone up for a disappointing climax at the end of all this hoopla.
Don't start celebrating just yet
Sorry to burst anyone's bubble, but the Lakers are not winning a title this year. They'll be lucky to get out of the first round should they make it that far. They've looked much better of late, but everyone expects whoever lands in the No. 6 seed to have their way with the Sacramento Kings. And should the Lakers somehow climb up to No. 5, they'd face the Phoenix Suns in round one, and we know how that worked out a couple of years ago. Now the Suns have a motivated Kevin Durant on their roster, and we know he loves ruining James' postseason runs.
Before any of that can happen, though, L.A. needs to defeat the Clippers Wednesday night to continue their run toward the playoffs. The Clippers have the Lakers' number this year, but this time they'll need to do it minus Paul George. Unless the Lakers rest players (mainly Anthony Davis or LeBron) because of the back-to-back schedule, there isn't any reason they can't win this game and jump into the top six. This is a must-win game for the Lakers, as the playoffs have already begun in L.A. Another loss to the Clippers could completely knock the wind out of James and the Lakers' playoff push.