For all the overblown nostalgia that looms around the toughness of the NBA during the '80s and '90s, you would think that one of the most important members — and primary defender of Michael Jordan — of the Detroit Pistons Bad Boys would have a different view on physical play in the NBA playoffs. Well, we all thought wrong. Late Tuesday night, Joe Dumars suspended Draymond Green without pay for Game 3 of the Golden State Warriors and Sacramento Kings First Round matchup at the Chase Center on Thursday night — proving that he's gone softer than 1-ply toilet paper.
World Series Stats That Will Blow Your Mind
This is not the same Dumars I grew up watching as a kid in Saginaw, Michigan. It can't be.
"The suspension was based in part on Green's history of unsportsmanlike acts," the NBA said in a late-night statement that caught the basketball world off guard.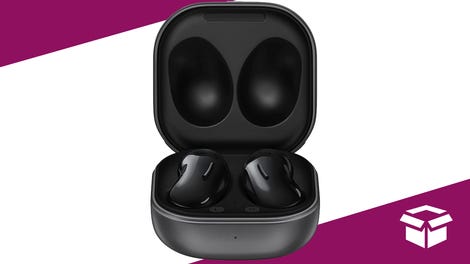 42% Off
Samsung Galaxy Buds Live
Listen up
These are some of the best earbuds Samsung users can get and feature active noise cancelling, incredible sound quality, and a long-lasting fast-charging battery.
Context is needed
Be clear, I'm not here to defend Green's antics, past or present. I'm here to bring context to why everything about this decision, when it was made, and how it's being perceived by some, has turned this into a story that's overtaken anything that's taking place on the court in that series, or throughout the rest of the postseason.
For instance, I'm not even going to expound on the fact that Dumars recently worked in the Kings' front office. I'll let the conspiracy theorists have a field day with that one. However, something about the announcement that Domantas Sabonis was questionable for Thursday's game due to a sternum contusion he apparently suffered from when Green stepped on him — despite Sabonis looking spry when he dunked on a fast break after that play — felt oddly convenient.
Somewhere along the line, Sabonis — who the NBA lists as seven inches taller and 10 pounds heavier than Green — has been granted full white-woman privileges of being allowed to play the victim for something he started.
Again, this is not in defense of Green's dumb decision to respond that way, followed by egging on a raucous crowd that NBA Commissioner Adam Silver was a part of, especially given his history of being suspended in the postseason.
But, how did Dumars and the league get this soft? Especially when the Warriors have been the NBA's most popular team for almost a decade. At a time in which ratings are in the tank, the league has basically decided to send their show pony home early.
Make it make sense
Hypocritically enough, Charles Barkley — one of the tougher guys from the '80s and '90s era — took issue with what Green did. But I'm old enough to remember when Barkley kicked Vlade Divac in the chest during the first round of the '93 playoffs — the very same season he won MVP and made it to the Finals.
"I think it was a very bad time for me to have my worst game of the year," Barkley said after the game in which he was only given a flagrant foul for the kick. "I'm disappointed I played so badly. I think that was the difference in the game."
Let the old heads tell it, the NBA of yesteryear was as tough as the Wild West. They always forget to mention that they were allowed to fight given the rules of that era and that the money was different. Players are million-dollar assets now. But, funny enough, a member of the meanest and most-feared team in NBA history is now in charge of "discipline." And in a moment in which he could have shown that physicality and overt aggression still have a place here and there, he decided to mandate the association his team once bullied with Saturday morning-league kid gloves.