For some the choice is obvious, for others it's the type of sports debate that makes you feel like your T.V. is slapping you in the head at 10 a.m. Whether you hate or love this classic, it will make you feel something.
Michael Jordan is the face of the modern NBA. He took the interest that Magic Johnson and Larry Bird injected into the league in the early 80s and used it to build the first athlete economic empire. The NBA was selling its individual stars to market the games so Jordan's agent — David Faulk — took it one step further with his client. He wanted Nike to market Jordan like a tennis star. Like a singular athlete.
LeBron James had seen the success of this his whole life and set a plan into action early. He signed a $90 million deal with Nike before he signed with the Cleveland Cavaliers. Since then, James has started a fast-food pizza restaurant and also owns a production company that remade both Space Jam and the early 1990s classic House Party.
These two are true A-list celebrities. Not just sports famous, but pop culture icons like Michael Jackson, Eddie Murphy, Jack Nicholson, etc. Also one has the highest points per game average in NBA history and the other holds the record for total points scored.
– Stephen Knox
SLIDE #100
First Take Region No. 5: Muhammad Ali vs. Mike Tyson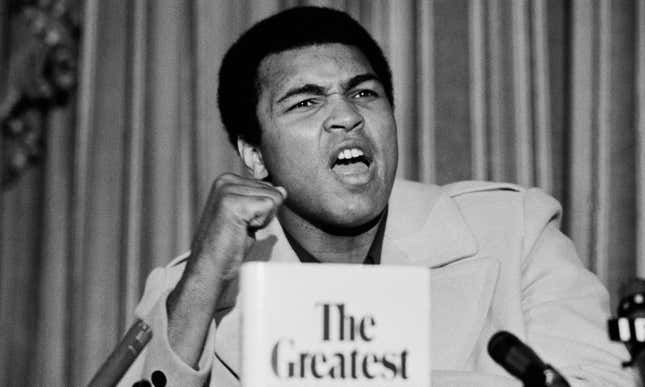 These are two forces that the world of boxing had not seen before or since. The time in their careers when they were most dominant was short-lived, but that handful of years left a mark by which boxers are still measured.
Muhammed Ali and Mike Tyson were heavyweight boxers. This is a division in which ferocious punishment is both endured and delivered. These large men swing as hard as they can at each other. Yet, in their prime neither fighter took much damage.
Ali had near ballet movement in the ring in the 1960s. At 200-plus pounds, no one was able to close in on him. For those who believe he didn't have power, the men he knocked out that decade might have a different opinion.
When Ali first beat Sonny Liston in 1964, he took the Heavyweight Championship from him. Sonny Liston was the baddest man on the planet and didn't come out for the seventh round. Until Ali was stripped of his title for refusing to serve in the Vietnam War over religious objections, of his nine title defenses only two went to decision.
Tyson bulldozed his way through the heavyweight division in the mid-1980s. He was quite possibly the scariest man alive because he was knocking people out before a bag of popcorn could be popped. Fame and ego took Tyson's Heavyweight Championship as opposed to a military draft, but at his best, his hands were real weapons.
In 11 Heavyweight title defenses — one of course the loss to Buster Douglas — only three of his victories lasted longer than six rounds. At only 5 foot 10, Tyson turned the heavyweight division into heavy bags.
At their peak, Ali and Tyson were the two best to ever put on the gloves and boots.
– Stephen Knox