You'd think after negotiating a CBA, before which Rob Manfred got to live out his lifelong dream of canceling baseball games, where the owners got a new level of luxury tax penalties, didn't really have to pay younger players all that much more than the pennies they already were, and certainly didn't suffer any major changes that would cost the owners more money or restrict their franchise values, they and their stooge might just sit and grin and watch the money roll right in.
The best ERA+ belongs to who? | Stats that will blow your mind
At the Sports Business Journal's World Congress of Sports, where he was fielding questions from Dan Beckerman and Peter Guber — so just rename this fucking thing A Stupefying Collection of Assholes — Manfred answered one of the questions posed to him by saying that having no limits on contract lengths was transferring money to older players and not leaving any for younger players, who make up the majority of today's stars. Because teams only have a certain amount they can spend, once a highly paid player goes off the boil he's immovable, and hence those who might deserve a bigger paycheck can't get it from teams that are carrying these anchors (hasn't stopped the Padres, who are still paying Eric Hosmer, mind).
Let's be clear: The only obstacle keeping young players from getting paid more is the people Manfred works for, and that's the owners. The San Diego Padres, New York Mets, Los Angeles Dodgers, Los Angeles Angels have had no problem handing out long-term deals and finding more money for other players too. Same goes for the Texas Rangers and Seattle Mariners and a couple of others to boot. We know there's more than enough money there for everyone, they just horde it simply because they can.
This is a management tactic as old as the goddamn hills, trying to pit one section of the labor force against another to keep them from uniting against management. Make it seem like those who have earned their long-term deals are the villains, and suddenly maybe the younger players might be receptive to listening to a cap on players they perceive aren't them.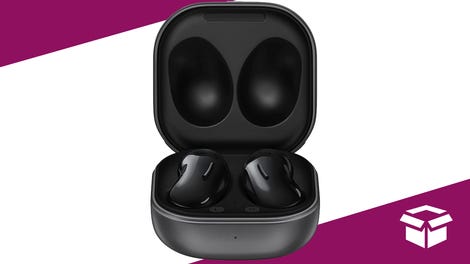 42% Off
Samsung Galaxy Buds Live
Listen up
These are some of the best earbuds Samsung users can get and feature active noise cancelling, incredible sound quality, and a long-lasting fast-charging battery.
When is it enough for these dickbags? They get to run a multi-billion dollar industry, the value of their franchises has multiplied four or five times and will only continue to roll over as much, they've got essentially a salary cap in place, they're four years from this CBA ending and they're already got their hatchet man setting targets for a way they can grab a little more.
And if they want to, when 2027 rolls around, they could lock the players out long enough to get it. Only a shit-for-brains like Manfred would take the good buzz baseball has these days thanks to the rule changes, quicker pace of play and game times, and the shine from the WBC highlighting some of the game's best players in a new way and toss it into the nearest pig pen he could find.
I'd say I hope someone's lawn mower goes rogue one day and runs him over from the knee down, but these jackasses would just find another.
Great start, Leafs
Well, that couldn't have gone much worse for the Leafs.
In a pivotal series that will decide the future of an entire organization and shape a lot of careers, the Toronto Maple Leafs got fustigated by the Tampa Bay Lightning to the tune of a 7-3 scoreline that wasn't that close. Even when they had managed to pull within 3-2, they immediately tossed up their lunch and then completely melted down when Michael Bunting decided he could do one better than Draymond Green in the chucklehead department. Hopefully he'll receive a suspension as well for that cheap shot at the worst possible time. But everything is at the worst possible time for the Leafs.
There's still a very long way to go, and the Leafs will know from last year an emphatic Game 1 win guarantees nothing. But they may already, or should be, asking themselves if a team can really be serious about a Stanley Cup when it is starting Luke Schenn, the husk of Mark Giordano, Justin Holl, Jake McCabe, and TJ Brodie on defense with a straight face. They were slow and ponderous and beat all over the ice to loose pucks, because they have the collective mobility of syrup.
The Leafs' forwards can get them out of a lot of jams, and it's looking like they'll have to.
Blue Shirts win
Elsewhere, the New Jersey Devils learned there's a difference between playing fast and being in a rush. New Jersey is faster than the N.Y. Rangers, and they tried to manifest that against the Rangers by trying to force turnovers above their blue line or on the forecheck But they were in such a hurry they were manic with the puck for the first period, left some gaps when they turned it over, and they didn't get the big saves that Igor Shesterkin gave the Rangers. Once they settled down at the end of the first and through the second period they were far the better team, but by then it was too late. Give Shesterkin a lead he can sit on and it becomes quite the mountain. Lesson learned.
Max Muncy crushes one
Meant to get to this yesterday. I know Max Muncy crushes this ball, Dodger Stadium ops, but there are a few people in the bleachers who might be interested in catching it, and turning the lights off ups the odds of them getting some seams imprinted on their dome by like 700 percent:
I know L.A. loves its dark bars, but try not to turn your ballpark into one when there's a baseball hurtling at your patrons. First rule of business school.
---
To follow Sam's addled thoughts in real-time, follow him on Twitter @Felsgate.