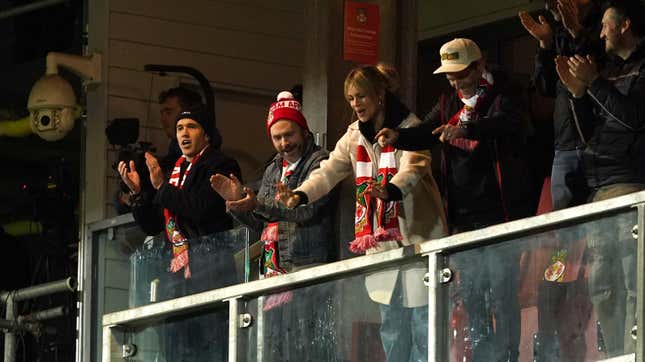 As season one of FX's Welcome to Wrexham concluded, we saw the Welsh football club narrowly miss out on a promotion to the top four tiers of England's professional football pyramid. And for those living under a rock, Wrexham is a small United Kingdom team that got that spotlight because they're owned by actors Ryan Reynolds and Rob McElhenney. Why is being in the top four such a big deal? Traditionally, the top four leagues, with the Premier League at the helm, represent the professional leagues in the United Kingdom. Wrexham are in the fifth-level National League, the highest amateur tier. And Wrexham is once again knocking on the door.
Top 5 football movies of the past 30 years
So spoilers if you want to wait until this coming fall to find out what happens to Wrexham. In the case of a normal person, keep reading! By defeating sixth-place Boreham Wood this weekend, Wrexham would clinch the National League title and promotion to League Two, the fourth-tier league in the English system. The fifth tier is where the team owned by the stars of Deadpool and It's Always Sunny in Philadelphia has been stuck for 15 years. It is currently the longest-tenured team in the National League, meaning there's been no demotion or promotion for the Welsh squad since the final year of George W. Bush's presidency.
Wrexham's path to promotion
Only the top team in the National League is guaranteed promotion and Wrexham, the only team in the fifth tier to not play home matches in England, are four points ahead of second-place Notts County with two matches to go. Wrexham don't have to win this weekend to become champions, but those who watched the season one finale of Welcome to Wrexham know finishing second in the National League far from guarantees you anything. Wrexham's final match of the season is on the road against Torquay United, who are likely going to get relegated to the sixth tier of English football by the end of the month.
Wrexham is proving to be too big for the National League anyway as its popularity is larger worldwide than most UK teams not in the Premier League or the Championship, the tier right below the EPL where AFC Richmond spent the second season on Ted Lasso. Wrexham's popularity has given a soon-to-be-fourth-tier team the opportunity to play in an American stadium friendly against Manchester United this July in San Diego. That's pretty awesome to see the little guys, or former little guys with incredibly famous owners, get that opportunity because no matter who owns the team most of Wrexham's roster were men you couldn't pick out from a crowd at any pub. And now, in part because of McElhenney and Reynolds' investment, Wrexham should be headed to professional football.