On one level, I get it. I bet Toronto is a lot like Chicago. Whenever the first warm stretch hits, you're looking for any excuse to be outside. And most likely drunk as shit when you are. Usually that streak doesn't hit until somewhere around Memorial Day, so to get it in April feels like you're stealing and you'd better get the most from it before whoever is in charge realizes the oversight and takes it away.
True All Stars of Terrible | Worst of the Week
But still. If you're a Toronto Raptors fan, you're not far removed from knowing what actual, important basketball looks like. It was only four years ago. You know what calls for going all out, planning your day around, and you know what's beneath you. At least you should.
So imagine thinking that for a play-in game, that's not even the playoffs, you're going to head down to Jurassic Park to watch in a public square, which can't be all that comfortable. I know, again, it's warm. Just want to be in the warmth. But still, joining the public gathering to just watch a game is for the playoffs, the later rounds of the playoffs more to the point, or World Cup games. A play-in game? It's like half a degree removed from the regular season.
Anyway, you make this trip. This is who you are. And you're feeling pretty good about that choice for two quarters. The Bulls' limited offense is proving to be easy to combat for any team with a coherent defensive plan, and they can't plug all the holes defensively. The Raps get out to a 19-point lead. It's a warm night, you're a few…well, I won't pretend to know what actual beer they drink in Toronto, and fear making a Molson or Labatt joke would be too insulting, when I'm going to be more than insulting enough anyway. Let's just say you're properly gassed up now. Really few better feelings than a few beers on a warm spring night, watching your team win., Baseball has been trying to bottle this for a century and a half now. Maybe it felt silly at first, back at the house as you threw on your Vince Carter jersey, but now it's right in the pocket.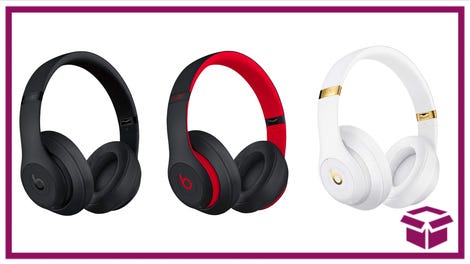 save $150 right now
Beats Studio3 Wireless Headphones
Affordable audio and noise cancellation
Meet the Beats Studio3 Wireless Headphones, now up to 43% off at Amazon. This top deal, which is only available today, offers some seriously sweet savings on a pair of really great headphones.
Then Zach Lavine goes supernova. The Bulls' defense picks up, and the Raps discover they don't really have that guy they can just throw the ball to and let him work. DeMar DeRozan, your former centerpiece, shakes off a shaky first half to join Lavine in surging the Bulls forward. It feels like a boulder getting over the summit and now going downhill. There's no stopping it. Even the breaks you get — a challenge that goes your way, a lucky call that sends Pascal Siakam to the line for three shots to tie the game when he pretty clearly was fouled on the floor — don't bring benefit. The Raptors are done, having blown a huge lead on their home floor to a Bulls team that couldn't ever get right for the whole season.
And now you're the dope who made it down there for this. Who made a big deal not just out of a play-in game, but a play-in game loss. Four years after knowing the rarified air of a championship, you've gone all in for this, and it didn't even go your way. You've seen another Toronto collapse to go with the Blue Jays blowing a seven-run lead in Game 2 last year to eat it in the wildcard round and the Maple Leafs…well, the Maple Leafs. That was your evening. You're that guy. And for at least the next few days, you'll have to come to terms with being that guy.
And now the beauty…
On to happier things. AC Milan pulled a shock over runaway Serie A leaders Napoli yesterday in their Champions League quarterfinal, winning 1-0 at home and making the most exciting team in Europe look a little toothless. The only goal came from Ismaël Bennacer, but it's the turn from Brahim Díaz to start the move that makes me want to write poetry simply devoted to it:
It looks for all the world that two Napoli defenders are going to swallow him up outside his own penalty area and put Milan in real trouble, and with one sweep of his left foot not only does he leave them staring at each other like Looney Tunes characters but he just pours into an acre of space like elementary schoolers bursting out of the doors on the last day of school at 3 p.m. It can be such a gorgeous sport.
Jared Kelenic flashing potential
Finally, Jared Kelenic of the Mariners is teasing a revival so far this season. He was a much-celebrated prospect that had Ms fans dreaming of a new day before the new day arrived last year. But Kelenic has mostly spent his MLB career going up to the plate with a pool noodle, striking out a ton and when he did make contact it was about as loud as a mouse fart. He has spent two seasons bouncing between Seattle and Triple-A, and you wouldn't have been remiss to write him off.
Something has changed this season, as he's been absolutely murdering the ball. Maybe it's just a two-week spasm, but if it's only that he'll have one of the most monstrous home runs ever hit at Wrigley Field as a keepsake. Here he is basically ending Julian Merryweather's career:
I've never seen anyone go a few rows deep into the centerfield bleachers at Wrigley before, and no one who sits there is ever expecting to get a souvenir. This is basically defamation.
---
For more of Sam's addled decomposing, follow him on Twitter @Felsgate.