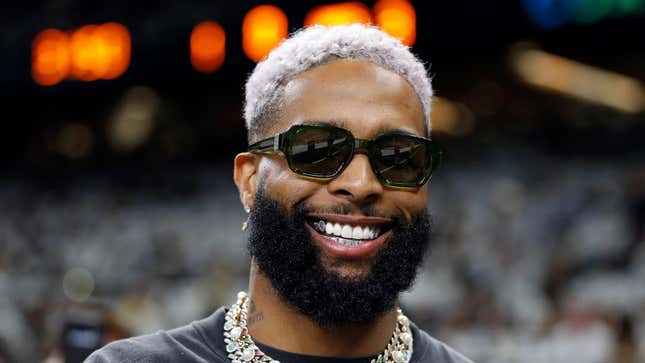 For months, it's been the elephant in the room for the Ravens. Baltimore has done almost everything in its power, because actions mean more than any words out of John Harbaugh's mouth, to anger and agitate star quarterback Lamar Jackson. The Ravens haven't committed long-term to Jackson as the cornerstone of their franchise, with several other signal callers of similar value receiving that go-ahead around the NFL. Jackson believes in his value and wants a team to be on the same page, Charm City or not. Sunday's signing of Odell Beckham Jr. to a one-year contract doesn't change how much the Ravens have done for Jackson this offseason one iota.
Worst Darkness Retreats of the Week
Don't let the shiny new weapon fool you. What team that would trade for Jackson wouldn't have at least one solid receiver he'd love throwing to? The Ravens doing the bare minimum by giving Jackson better options on the outside doesn't give him any more coin. Beckham will make $15 million guaranteed with another possible $3 million in incentives, per multiple reports, so Baltimore general manager Eric DeCosta has no problem spending money, just not enough to keep his top-tier quarterback happy. Yes, images emerged Sunday night of Jackson and Beckham partying together at a nightclub (although Lamar looks like he'd rather be at home asleep) and the duo on FaceTime as teammates. Nothing says "professional divorce" like not being given the same love by your employer. Beckham is locked in for a year. Jackson is currently under the franchise tag, about $20 million less per season than the top quarterbacks in the league make.
I'm not saying Jackson deserves Patrick Mahomes-level money. There are two Super Bowl rings between the two of them, and neither belongs to Jackson. Getting what the former Heisman Trophy and Louisville legend is due is another story. How many teams in the NFL wouldn't have an upgrade at quarterback by acquiring Jackson? To put it simply, a hefty majority of the league's franchises would be better with Jackson than without him.
The OBJ-Jackson pairing doesn't have to extend beyond this year. I'm sure Jackson has some loyalty to the only NFL team he's ever played for and sincerely wants to make things work with the Ravens. What willingness has the team's front office shown to make it work with him? Bringing in Beckham is a smart move for the franchise on a few fronts, but staying out of Jackson's ire isn't one of them. This just kicks the can down the road even more. It's nice to have hope that this will all end happily for Jackson and the Ravens, with a reunion as satisfying as Harrison Ford and Ke Huy Quan, but how does Beckham joining the team ultimately move the needle? It doesn't. Jackson wants his bag, and a nice offensive supplement doesn't change the fact that his bag is still lacking.
Beckham hasn't made a Pro Bowl since 2016. He's shown signs of being one of the game's elite wide receivers once again but hasn't truly been the dominant pass-catcher that endeared himself to NFL fans in years. His potential is through the roof and Jackson cracked more than a smile through his phone at the thought of teaming up and the duo elevating one another. Whether we actually see both wearing purple at the same time isn't a certainty and that speaks to how much the Ravens have mismanaged Jackson. Sunday was a good day for Ravens fans, only in the context of how bad the last several dozen before that have been with a star quarterback wanting to take his spotlight away from Baltimore.