If you are planning a holiday this summer, there is plenty you need to think about when it comes to your beach outfits. There are as many different types of swimwear for you to choose from as you can name. Whether to go for floral or block colours. Or to wear an underwired cup or more natural cups. The first big question you need to ask yourself is whether you want to pack a bikini or swimsuit. You need to answer this question before you can even think about what style to go for.
If you're an experienced traveller, you probably already know if you have an allegiance to one or the other. Some women are bikini lovers, others are swimsuit devotees. Maybe this is your first holiday away or at least your first trip in a while? Maybe you had kids and your body shape has changed slightly? Or have you been working hard at the gym and now you're dying to show off your tightly toned body? Any of these scenarios might have left you wondering whether a swimsuit or bikini might be the best option for you. This article aims to help you solve that all-important summer dilemma: which is best for you – bikini or swimsuit?  There are a few advantages each have over the other that you might want to consider.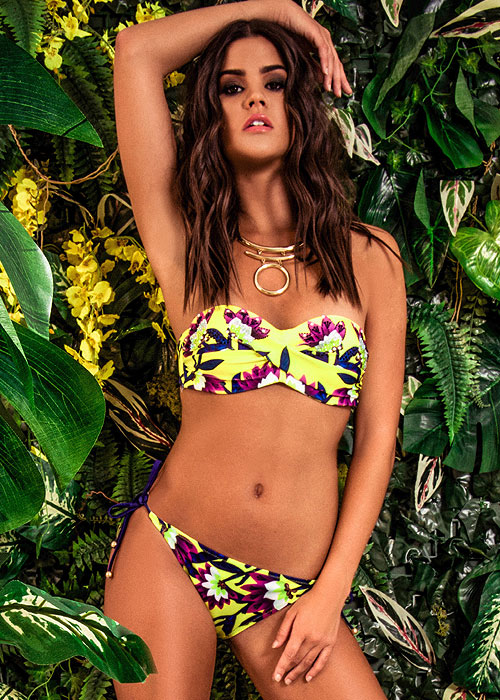 What Are The Advantages Of Bikinis Over Swimsuits?
Bikinis are a great option for two major reasons. If you want as close as you can get to an all-over tan or if you want to show off more of your amazing body, hands down, the best option for you is a bikini. You cannot rival a bikini for maximum exposure to the sunshine. Of course, you should always use sunscreen and stay safe. If you do need to cover up, just make sure you've always got a kaftan or pareo handy to throw on. The downside to bikinis is that you need to be a little more confident to show off so much skin.
Many women who may not have the figure they desire (or the figure they used to have) shy away from bikinis but they shouldn't have to. Some curvier women look fantastic in a bikini, and many swimwear designers actually design bikinis with curvier women in mind. As long as you pick a bikini that's designed to suit your shape and size you will look fabulous! Just use your common sense and don't try to pour yourself into a bikini that's too small for you. Ill-fitting swimwear can be quite unforgiving and actually make you look bigger than you are. All the same, whether or not you have the confidence to wear a bikini is down to how body confident you are.
What Are The Advantages Of Swimsuits Over Bikinis?
Swimsuits are the preffered choice for women who don't have the confidence to bear all on the beach. Swimsuits also have a few other advantages over bikinis. The ability to add compression or support is a great one. Shaping swimwear, tummy control swimsuits, in particular, are one of the most popular categories of swimwear and the demand for it increases each season. What's more, shaping swimwear is for women of all sizes. If you are blessed with a voluptuous figure, you might be excited to learn that certain brands claim to help you drop a dress size in seconds! Many slimmer women also like shaping swimwear because it tones, lifts and enhances areas that may be saggy or flabby.
The main downsides of swimsuits in comparison to bikinis are the comfort factor, reduced tanning area and the issue of feeling stifled in the heat. These things shouldn't put you off wearing a swimsuit though. Swimwear designers are highly skilled in the art of creating beachwear that is designed to be comfortably worn in the heat. Through the use of hi-tech materials, this can be achieved to a certain extent but really the choice comes down to either material coverage or material-free. So no matter the quality of your swimsuit, always be aware that you will feel a little more free in a bikini.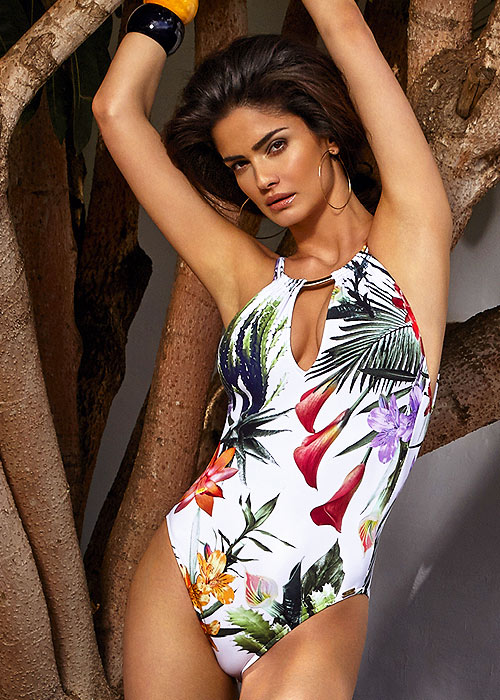 You've Made Your Decision, Bikini Or Swimsuit, So Now What?
What are the most enduring images of the ideal holiday? Sandy white beaches, azure blue water, and a worry-free afternoon of sunbathing. When you know you have your perfect beach look nailed, all you have left to worry about is enjoying yourself! So it's important that you go get the right right swimwear for you. Not only should your swimwear suit your style, but it should be comfy and creative too.
There are plenty of beautiful designer bikinis and swimsuits out there in solid, vibrant colours. A black and white design is completely free of colour, yet it leaps out at you and grabs your attention. Then there is swimwear made with simple and classic floral patterns, both can be very beautiful and have a timelessness about them. So how to decide what's right for you?
Which Colour Swimwear Looks Best On You?
You can't go wrong with a classic black or white bikini or swimsuit but what if you fancy something a little different? First, it's good to be aware of your own natural palette. If you have skin that tans well, it is likely that you have a warm palette. If you have pale skin that burns easily, it is likely that you have a cool palette. A bikini in a solid, bright colour such as orange, green or yellow can look super vibrant against dark, tanned skin but may make a pale skinned person look a little washed out.
If you have pale skin that doesn't tan so well, you may want to go for pale blue swimsuit or pink bikini. If you are drawn to metallics, gold looks gorgeous against the warm tone of tanned skin but if you have a cool palette, you might find that silver will suit you much better. Whilst a plain black swimsuit looks great on younger women, more mature women tend to find that a navy swimwear can be a little more forgiving.
Whether a Bikini Or Swimsuit, Choose a Pattern That Matches Your Personality
Beautiful patterns, vibrant colours and a sense of eternal style, right? Well yes, these are often the ways that designers capture our imaginations and turn our gazes but it is more than that. Often, swimwear print designs that have no vibrant colours can be every bit as striking as a palette spanning the entire colour spectrum. Patterns can be a good choice, but often complex patterns are fussy, not eye-catching. Many good designers can create a fractal pattern or something abstract well but it takes great skill to make a busy pattern appear balanced.
So, considering all the above, how do you choose the best pattern for you? Well, if you have a lively, bubbly personality, you would undoubtedly suit a bold, brightly coloured pattern. If you are a little shyer and more reserved, however, you may prefer to opt for something a little more subtle. Perhaps a print that incorporates a smaller motif or a texture that is woven into the material rather than printed onto the surface. If you are a very black and white person, a monochrome bikini or swimsuit would suit you perfectly.
Does Plain Always Have To Mean Boring?
Often, something plain and elegant is best but isn't that rather conventional? Well, it doesn't have to be. The thing to consider here is that all your bikinis should have one thing in common; innovation. It can be a familiar design, so long as it has something innovative to offer. A classic geometric pattern with a glitch effect, a floral pattern created with watercolours rather than photorealism. Even a simple geometric pattern in an unusual colour can make a statement by forgoing the regular azure blues for a yellow ochre or emerald green. Whatever it is, make sure your bikini or swimsuit is unique in its own way. That way, you will never have to think about going to the extremes when it comes to colours or patterns.
In fact, you don't need a patterned bikini or swimsuit in order to stand out from the crowd. Often, it is the very plainest swimwear which is the most striking. A simple detail such as a seam folded and sewn in an unusual way can be so subtle that it can create an ultra stylish Bond Girl quality. Sometimes, it's the most simple bikini or swimsuit designs that really have the biggest WOW factor!
A Tiny Detail The Bikini Or Swimsuit Can Make A Big Difference
How about if you only have very plain tastes but want a bikini or swimsuit that stands out from the crowd? An item of swimwear is such a small canvas to work on that a subtle detail can make a big statement. If you want something strikingly different from anything else you've ever seen, look for a brooch or beaded fringe detail. Crystals set into the material of a bikini or swimsuit can create a beautifully subtle sparkle in the sunlight. If the design of a bikini takes you by surprise and you think it is beautiful, then it is likely a new trend in the world of swimwear.
Whatever you choose in the end, bikini or swimsuit, remember one thing: It is what you feel comfortable in that counts. So choose something that is right for you. Maybe you're a swimsuit lover but you've fallen in love with a particular pattern that's only available in a bikini? Go for it!
Do you still need any help or advice regarding any of our products? Don't hesitate to get in touch, we would love to hear from you!

Post Views: 189