Pedicures, in addition to being soothing to the feet and summery on the eyes, are pleasant and pretty. Luxuriate with a gentle foot massage and creative artistic flair painted on your toenails for feet that stand out and are ready to show off no matter where they walk you to.
A pedicure is a cosmetic treatment of the feet and toenails. Pedicures provide a similar service as a manicure, except spoiling the feet rather than the hands. Pedicures are extremely popular throughout the world, primarily among women.
Pamper your feet and get toes suitable for a princess!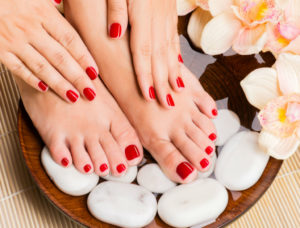 Pedicures not only paint up the toenails, but also remove dead skin cells from the bottom of the feet using a rough stone called a pumice stone. Also, leg care below the knee became a common service included in pedicures, along with granular exfoliation, application of moisturizing creams and brief leg massages.
Pedicure comes from the Latin word 'pedis', which means of the foot, and 'cura', which means care.
Treat your tootsies to the tender loving care they deserve with a pleasurable pedicure.
Pedicures are a luxury when you visit a nail salon, but can feel just as invigorating and maintain the same finished appearance as a professional pedicure when done in the privacy of your own home.
How to Give Yourself a Do It Yourself (DIY) Pedicure:
Buff your feet when dry, not wet, and use a foot file on the heels, balls of the feet and the edges of the toes.
Fill a large bowl with warm water and a reviving foot soak solution. Soak the feet for approximately 10 minutes.
Massage your feet with a foot scrub to get rid of dead skin, then rinse.
Dry your feet and push back the cuticles of your toes with a Q-tip or cuticle cream.
Cut, file and shape your toenails to your desired length and shape.
Massage your clean feet with a rich foot lotion.
If you want to paint your toenails, wipe away any excess foot lotion and apply a clear base coat of nail polish to the toes.
Polish the nails with the color(s) of your choice. Add jewels, stones, etc. if preferable.
Apply a top coat of clear polish to add shine and shimmer to your toenails, and to prevent the nail polish from chipping.
Wahlah, fancy, fabulous feet! Ah, what a treat!
Whether barefoot or shown off in sensational shoes, a completed pedicure looks sweet.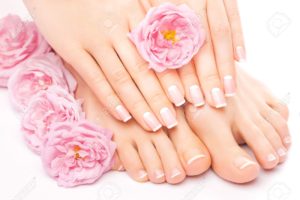 Terrific toes with sensational summer pedicures.
Pedicure Fun Fact: People have been pedicuring their nails for more than 4,000 years. In southern Babylonia, noblemen used solid gold tools to give themselves manicures and pedicures. The use of fingernail polish can be traced back even further. Originating in China in 3000 BC, nail color indicated one's social status, according to a Ming Dynasty manuscript, with royal fingernails being painted black and red. Ancient Egyptians have been manicuring all the way back to 2300 BC.
Let's see, I dare say manicures and pedicures are a popular luxury service for you and me.
Perfect pedicures for feet to adore. What glamour girl could ask for more?
Basic Tools Needed for Pretty Do It Yourself Pedicures:
Acetone
Cotton Balls
Cuticle Cream
Cuticle Pusher or Cuticle Clipper
Foot Bath
Nail File
Nail Polish
Orangewood Sticks
Toenail Clippers
Toe Spacers
Towels
Pumice Stone
Whether you use some of the listed tools or all of the above, an at home pedicure is something you will truly love.
Pedicure Fashion Tip: When wearing sandals or open toed shoes, pedicures look exceptionally sexy when your legs and feet are bare, meaning not covered with nylons or stockings. However, as always, fashion is your own unique preference. If you want to cover your toes with nylons or opaque stockings, then by all means, do so! Style is unique to a fabulous, fashionable you.
Pedicures: Whether you paint your toenails as a rainbow or a French pedicure, you will have the finest toes in town, I'm sure!
Nancy Mangano is an American beauty/fashion/style influencer, fashion journalist, screenwriter and author of the Natalie North murder mystery book series. Visit Nancy on her global online fashion/style/beauty magazine Nancy Marie Mangano Style at https://nancymariemangano.com, her Facebook page Nancy Mangano at https://www.facebook.com/nancymmangano/  Twitter @https://twitter.com/nancymangano and her author website http://nancymangano.com