High heeled shoes are footwear that raises the heel of the wearer's foot significantly higher than the toes. Sandals are an open type of footwear, consisting of a sole held to the wearer's foot by straps passing over the instep and, sometimes, around the ankles. Sandals are generally flat but can have a heel.
What do you get when you combine high heels with strappy sandals? A glamorous, highly sexy shoe! Strappy high heels sandals allow your feet to put on a fashion show everywhere that you go!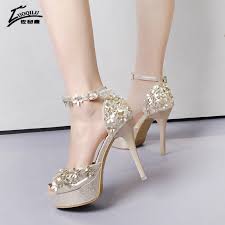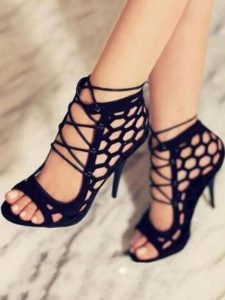 People generally wear sandals in warmer climates or during hot parts of the year in order to keep their feet cool and dry. Add a high heel to the sensible sandal, and you've added alluring appeal that can cause both a raised height and a visual high! There is no denying that high heeled shoes look lovely on the feet and add posh glamour to any outfit. Strappy high heeled sandals add extra elegance and a sassy, sexy, classy look.
Positive Effects of Wearing High Heels:
High heels change the angle of the foot with respect to the lower leg, which accentuates the appearance of the calves.
High heels change the wearer's posture, requiring a more upright and altering gait in what is considered a seductive fashion.
High heels make the wearer appear taller.
High heels make the legs appear longer.
High heels make the foot appear smaller.
High heels make the arches of the feet higher and better defined.
Even with the benefits of wearing high heels, I believe most people wear them for the same reason I do. High heels are beautiful! Fashion is a creative, visual, aesthetic field!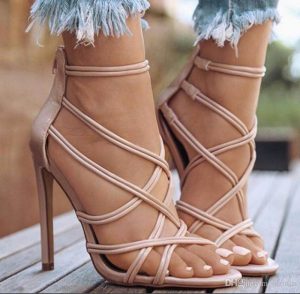 High Heel Fun Fact: Medieval Europeans wore wooden-soled patten shoes, which are regarded as the ancestors to contemporary high heels. The high heel has been traced back to Persian horse riders in the Near East who used high heels for functionality, because they helped hold the rider's foot in stirrups. It has been suggested that raised heels were a response to the problem of the rider's foot slipping forward in stirrups while riding. These features are evident today in riding boots, most notably cowboy boots.
Ah, shall we boot scoot boogie in a seductive pair of strappy high heeled sandals? Let's give the pretty girl a whirl and a twirl! Yeehah!
Sandal Fun Fact: The oldest known sandals were discovered in Fort Rock Cave in the United States, in the state of Oregon. Radiocarbon dating of the sagebrush bark from which they were woven indicates an age of at least 10,000 years. The Ancient Greeks distinguished between 'baxeae', a sandal made of willow leaves, twigs or fibers worn by comic actors and philosophers, and the 'cothurnus', a boot sandal that rose above the middle of the leg, worn by tragic actors, horsemen, hunters and men of rank and authority.
Seal the stylish shoe deal with strappy high heeled sandals.
High Heel Fun Fact: According to high fashion shoe websites like Jimmy Choo and Gucci, a "low heel" is considered less than 2.5 inches (6.4 centimeters), while heels between 2.5 and 3.5 inches (6.4 and 8.9 cm) are considered "mid heels", and any heel over 3.5 inches (8.9 cm) is considered a "high heel." Extremely high heeled shoes, such as heels above 6 inches (15 cm), can be viewed as 'eye candy jewelry for the feet'.
Sweet! Give your fabulous feet a treat!
Sandal Fun Fact: A typical sandal may have a sole made from rubber, leather, wood, tatami or rope. Sandals are often held to the foot by a narrow thong that passes between the first and second toe, or by a strap or lace, called a latchet, sabot strap or sandal, that passes over the arch of the foot and around the ankle.
Mix together the strappy high heel with the open sandal, and you have a shoe that will never look drabby or dull! Wonderful footwear everywhere that you go.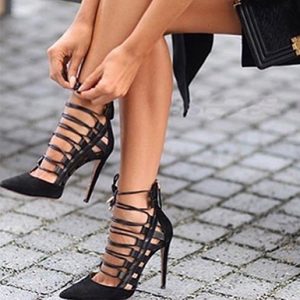 A major benefit of the strappy high heel sandal is that the fabulous shoe can be worn as a dressy shoe or a casual shoe. Depending on how you're dressed, either in a stunning evening gown or a pair of cuffed denim jeans, with a strappy high heeled sandal on your foot the outfit says "I always dress like a queen!"
Create a strappy high heel sandal scene, as the sensual shoe makes the leg appear long and lean.
High Heel Fun Fact: During the 16th century, European royalty, such as Catherine de Medici and Mary I of England, started wearing high heeled shoes to make them look taller or larger than life. By 1580, men wore heeled shoes, and a person with authority or wealth was often referred to as "well heeled."
In modern society, high heeled shoes are a large part of women's fashion. High heels force the body to tilt, emphasizing the buttocks and breasts.
There is no denying that women adore their high heels! A survey conducted by the American Podiatric Medical Association showed that 42% of women admitted they would wear a high heeled shoe they liked, even if the shoe caused them discomfort!
Occasional clothing pain is a fashion diva's gain!
The strappy high heel sandal equals pure fashion gold. How do I know? It's simple. I wear them everywhere that I go! The foot doctor says, "Say it ain't so!" I say, "I'm proud to say it is so!" Oh so lovely, the strappy high heel sandal.
Strappy high heeled sandals slide on the feet just right and always emit a sensual sight!